Reviews from latest release:
You've definitely outdone yourself here…this is CRAZY AWESOME!!! You've made this place look really GOOD!!! Even our field sign looks better in your video!!! We love every bit of this video. ..THANK YOU FROM THE BOTTOM OF OUR HEARTS!!!
Icon Aerial Media featured on German Travel site
 German travel site www.urlaubspiraten.de features video produced by Icon Aerial Media
http://www.urlaubspiraten.de/reisen/karibik-14-tage-auf-der-insel-saint-kitts-schon-fur-986-euro-inklusive-flugen-zentraler-unterkunft
YUNEEC Announce launch of Tornado H920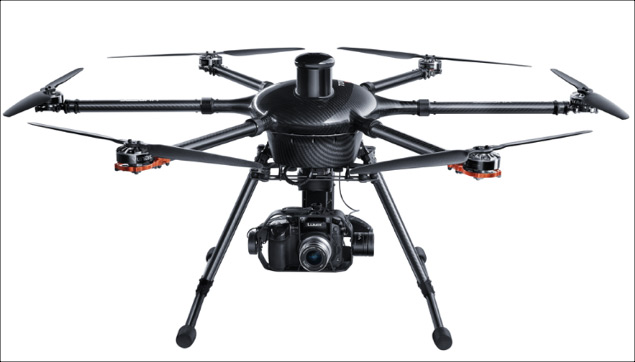 Yuneec International, the world leader in electric aviation, today announced the launch of the Tornado H920 hexacopter and the CGO4 professional gimbal camera. The Tornado H920, the first release from the highly-anticipated Tornado series, is an aerial photography and videography platform designed with the professional user in mind.
The Tornado H920 aircraft features an ultra-lightweight carbon fiber frame, retractable landing gear, folding arms & 5-Motor failsafe mode, making it the solution of choice for professional users. The built-in capability to hold three rechargeable batteries provides consumers with a flight time of up to 42 minutes depending on payload.
Additionally, the Tornado H920 has several smart features that ensure safety and ease of use, which consumers have come to expect from Yuneec International products. Features such as Return-to-Home, auto landing and five-rotor flight safety are built into the Tornado system.
"The Tornado H920 has been specially designed for the high level photographer and is the perfect aerial photography solution for use in multiple verticals," said Tian Yu, CEO of Yuneec USA. "Professional photographers will get a valuable tool that will help them with work opportunities such as inspections and project surveying and hobbyists alike will enjoy a remote hexacopter that can film everything from weddings to birthday parties to sporting events."
The ST24 personal ground station, a 24-channel all-in-one transmitter, is powered by an Android operating system and features a 7-inch touchscreen that displays telemetry data and a built-in flight simulator. Consumers will also benefit from the GPS receiver that is the top of the line in its class.
The Tornado H920 is compatible with a variety of independent high-end professional aerial and ground capturing cameras including the all-new CGO4 gimbal camera. Specifically developed for the Tornado H920 copter, the CGO4 incorporates a true Panasonic GH4 micro four thirds camera sensor with a 3x optical zoom lens, an integrated 5.8 GHz video link module designed to capture the highest quality aerial photographic and video imagery, conveniently housed within a precise and ultra-stable 3-axis gimbal system.
Additionally, the Tornado H920 also pairs with Yuneec's V18 professional gimbal stabilized camera with 18X optical zoom and for further convenience, the Tornado H920 is also compatible with the Panasonic GH4 and Sony A7Rii using the 360-degree panorama capable GB603 gimbal.
The ready-to-fly (RTF) Tornado H920 package includes a travel case, the ST24 personal ground station, Proaction grip for stable ground footage, two batteries and a premium two-port charger for the suggested retail price of $4999.99USD. Camera accessories are sold separately for additional costs. For more information visit www.yuneec.com.
http://www.travelpulse.com/news/travel-technology/11-amazing-travel-videos-shot-by-drones.html
11 Amazing Travel #Videos Shot By #Drones
Travel Technology | Ryan Rudnansky | December 09, 2014
PHOTO: Travel photographer and filmmaker Elia Locardi's drone video of Iceland demonstrates the appeal of the device for capturing destinations
Drones are becoming increasingly popular tools to capture locations around the world, whether you are a traveler or a travel company.
The flying robot, or unmanned aerial vehicle (UAV), has been used for decades by the military, but has only recently taken off when it comes to personal or commercial use.
The rise of the smartphone (what else?) has contributed to the growing popularity of the drone, which consumers can buy for relatively cheap and fly around in a controlled manner using certain apps. This basically gives your Average Joe the ability to attach a video camera and film incredible high-resolution sweeping shots that don't require the use of an airplane or a helicopter.
In this regard, it's no wonder why the drone has become popular with travelers and as marketing tools for tourism boards, hospitality companies, travel photographers and more.
A recent video by landscape photographer and filmmaker Elia Locardi using the popular DJI Phantom 2 drone captured Iceland in all of its beauty, from picturesque snow-capped mountains, raging waterfalls and glistening glaciers to the Northern Lights (more about the project can be found on Fstoppers.com).
In June, filmmaker Philip Bloom received praise for his work capturing the Thai island Koh Yao Noi with the Phantom 2 and a GoPro camera. Bloom was not only able to film some great shots of the surrounding landscape and animals, but he also was able to showcase the local people (from their homes set in the water to the children's joyful reactions as the drone flew above them).
Atlanta-based company Barnes Creative Studios is making a lot of hospitality companies happy with its drone videos. The company has produced a variety of spectacular promotional videos for properties ranging from Kamalame Cay Private Island & Residences in the Bahamas to Banyan Tree Mayakoba in Playa Del Carmen, Mexico.
Tour company DolphinSafari, based in Dana Point, filmed schools of dolphins and whales in Dana Point and Maui via a drone.
The historic Chateau d'If island fortress and surrounding Marseille was captured brilliantly by French company DroneCast.
The Visit Trondheim tourism board in Norway enlisted the help of Fram Film and Natural Light to produce a stunning video of the town's winter months.
Heck, there's even a comprehensive website called TravelByDrone.com that allows travelers to scan locations around the world for drone videos. Popular recent locations include Kauai, Colorado Springs, Tanzania and Japan.
Of course, drones come with their challenges.
For one, there's the risk of, you know, crashing them into something.
To create a great drone video, you also have to do a lot of experimenting and be very precise. Bloom noted the challenges in his blog post about filming in Koh Yao Noi.
Bloom wrote, "Anyone can grab a Phantom 2 and zip it up in the air, make it zoom along really fast and then bring it back down. The skill is control and getting the composition of your shots right. After all, how many of you when you get a camera, stick a wide angle on it, hit record and then run around for 20 minutes without looking at what you are shooting? EXACTLY!!"
"Learning fine control is key," Bloom continued. "Take it out into the middle of nowhere. Learn how to land exactly where you want to. Learn how to make it circle an object. Create subtle jib like shots. Not everything has to be a big sweeping motion, although they are very cool! What makes the Phantom 2 and other multi rotor systems amazing is the freedom they give you."
Drones are also not allowed in certain locations throughout the world. Countries such as Spain, Austria, India and South Africa have banned the deployment of drones outright, whether it's for personal or commercial use. In June, the U.S. National Park Service prohibited the use of drones in its parks. One man from Germany was actually banned for a year from Yellowstone National Park after crashing his drone into Lake Yellowstone a month after the official drone ban.
But, as of now, there are still plenty of locations where you can film using drones. And, given the range, flexibility and control drones allow for filmmakers, as well as the relatively inexpensive price, you can expect the use of these devices to continue skyrocketing, and expanding the ways travel destinations can be seen.